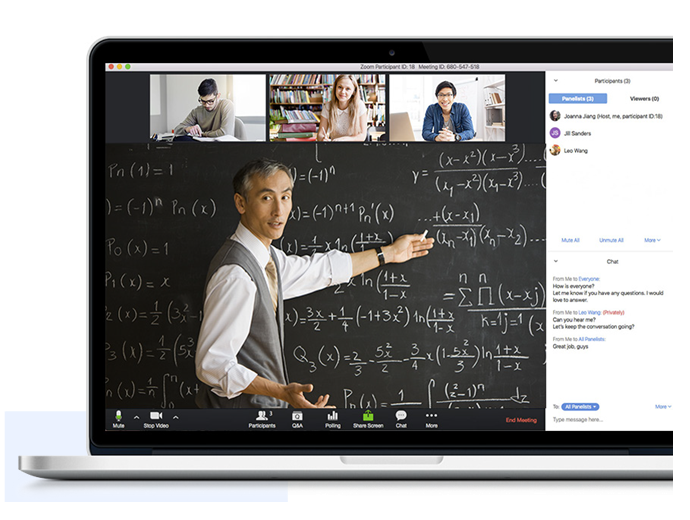 Zoom into New Technology!
Northwestern University is transitioning to a new web conferencing platform. As of March 9, the University has transitioned from BlueJeans to Zoom in advance of the spring and summer quarters. Zoom is available to anyone with a valid Northwestern NetID, and the platform is ready to be used in all Canvas courses.
What is Zoom?
Zoom is a cloud-based web conferencing service that supports high-resolution videoconferencing and screen sharing, as well as real-time video sharing.
Key Features and Benefits of Zoom
Intuitive interface
Seamless integration with Canvas
Breakout rooms to support collaboration and team projects
Live chat and polling
File sharing, whiteboards, and collaborative annotation
Up to 300 attendees per online session
Integration with Panopto, Northwestern's lecture video capture and management platform
27/7 Zoom support (including national holidays), video tutorials, and online training webinars
Why transition to Zoom?
In 2019, student and faculty representatives from across the University took part in a nine-month assessment of needs for a web conferencing service primarily to support synchronous online sessions within Canvas. This assessment included an evaluation of BlueJeans, Webex, and Zoom that focused on functionality, accessibility, security, usability and cost.
The assessment concluded with a recommendation to adopt Zoom for its collaboration features for online course sessions, a more user-friendly interface, 24/7 support and improved audio and video quality. Learn more about the project.
Zoom is a great service to use should the need arise to provide remote on-line course teaching.
What about BlueJeans?
While BlueJeans will remain available for use in Canvas through the spring quarter, everyone is encouraged to transition to Zoom as soon as possible. BlueJeans will be removed from Canvas after the end of spring quarter on June 15, 2020.
If you're using BlueJeans to record web conferencing sessions, you have already received additional communication on how to transfer those recordings to a file storage service or Panopto, our lecture capture service. 
Back to top