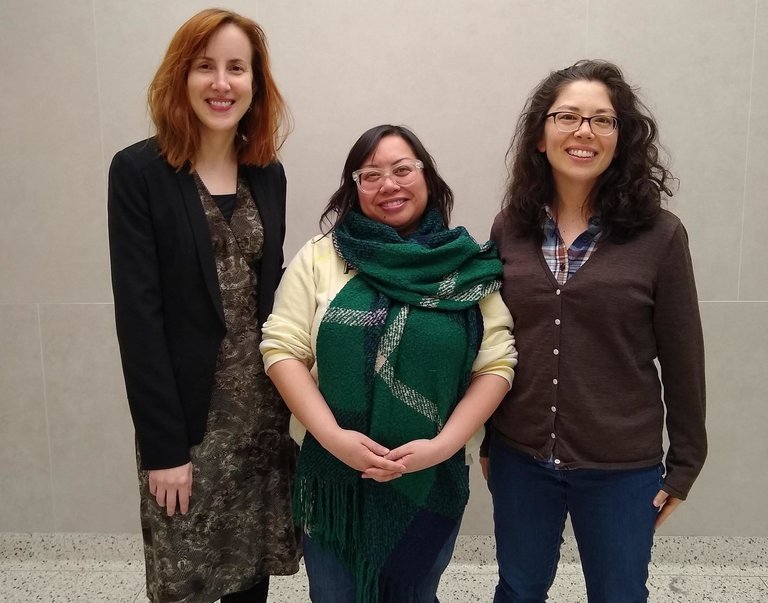 Curiosity: A WITS Core Value
Curiosity, one of Weinberg College IT Solutions (WITS) core values, is exemplified in three staff members' deep dive into the world of coding.  While their paths have looked different, they're all looking for ways to better support the College. All three attended coding bootcamps, which have increased in popularity over the past several years. Bootcamps provide a crash course in web development for those without experience, ranging from 12-24 weeks in length. They typically teach fullstack web development, with JavaScript and Ruby being the most popular languages.
Caryn Carter enrolled in Northwestern University's web development bootcamp. This was a six-month commitment, on top of her full-time role as Senior Business Analyst. Why did she decide to sacrifice an additional 25+ hours a week for six months? She wanted to provide seamless communication as the liaison between Weinberg staff and the development team. But to do so, she needed to understand the technical limitations and implications of various business requirements and better understand how applications run behind the scenes.  "I wanted to remove the veil," she said. Ultimately, she developed technical skills and is glad for it. Now, she is a knowledgeable software project manager in her role as Product Owner and can scope and prioritize the development of product features. Since achieving her initial goals for learning in the bootcamp, she's driven to solve intellectually challenging and difficult problems and continues to code and learn.
Like Caryn, Cecile-Anne Sison enrolled in Northwestern's bootcamp. "Initially there was a scheduling software I wanted to build, [but I] didn't have the toolset to build it." Cecile is the Instruction Technology Lead at the MAD Studio (MADS) and supervises a team of student workers. "As time went on throughout the course, I did realize there were ways I could contribute to my unit." She graduated from the bootcamp in January 2020, and since then she's made her first push to a work repo* and has a front-end project lined up! Her team is excited she'll be able to take on some of the workload. While in the bootcamp, Cecile also found that project management complemented her movie production background. "I want to delve deeper into Agile**, maybe getting certified as a scrum master***."
Christine Glass is a career changer who went from social worker to developer after also completing a coding bootcamp. Now, through the portable tuition benefit, she's currently taking computer science courses in order to increase her understanding. Bootcamps can allow graduates to hit the ground running, building out new features on existing apps or bootstrapping new ones. However, for Christine something was missing. "The bootcamp taught me how to drive the car, but now I want to know what's going on under the hood." Today's modern frameworks abstract away so much that it can start to feel like magic, "so when I'm implementing my own data structures, you simultaneously realize there's no magic involved while also deeply appreciating how it's all taken care of for you." She's received great support from her team. "There may or may not have been a time where four of us spent 30 minutes white boarding proofs for my discrete math class."
Back to top