Weinberg College IT Dictionary
Every field has its own set of specialized terms and IT certainly has more than its fair share! If you've ever put in a service request or tried to buy a computer at Northwestern, you've probably run into a word or two that you weren't familiar with. We picked some of our most often used jargon to translate for you here.
Bomgar - n. A remote support tool. With the help of a user, support technicians can remotely access a computer in order to provide support. When using Bomgar technicians can see what is pictured on the screen of the target computer, and have mouse and keyboard control.
Example sentence: Since you're off campus, we should do a Bomgar session to resolve this issue.
synonyms: remote support session, Bomgar session
CrashPlan/Code42 - n. a computer backup program licensed by Northwestern for use on University owned computers for faculty and staff. It allows for automated, periodic backups of Northwestern data, including local email, documents, and research data.
Example sentence: We can pull any documents you need from Crashplan to put on this loaner laptop you're borrowing.
image - n. A standard installation of an operating system (Windows/macOS) that comes packaged with commonly used applications such as Microsoft Office, Firefox, Box, CrashPlan, in addition to management software. A detailed list of applications can be found here.
v. to apply a standard installation to a new computer
Example sentence: The computer will be ready after I image it this afternoon.
see also: reimage
reimage - v. to first wipe a computer and then to install the standard configuration. Computers that are changing owners or computers that have complicated issues are often reimaged to provide a clean slate. Reimaging completely removes all the data on the computer, so machines are often backed up before reimaging.
Example sentence: This computer is borked , you'll have to reimage it.
Footprints – n. a service desk software that allows people to send in requests for help and for technicians to respond and track work. Support technicians look at tickets through the Footprints portal like the image below.
 Example sentence: I checked my tickets in Footprints and it looks like it'll be a busy day!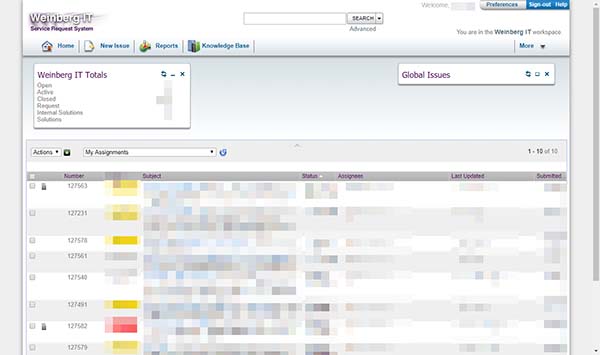 ticket - n. a user request for information, advice, or technical support submitted to an IT support group. Tickets are most commonly submitted by emailing Weinberg-IT@northwestern.edu, and users generally only interact with tickets through text-only emails, like the image below.
Synonyms: service request, support request
Example sentence: My computer is on fire! I should submit a ticket to Weinberg College IT!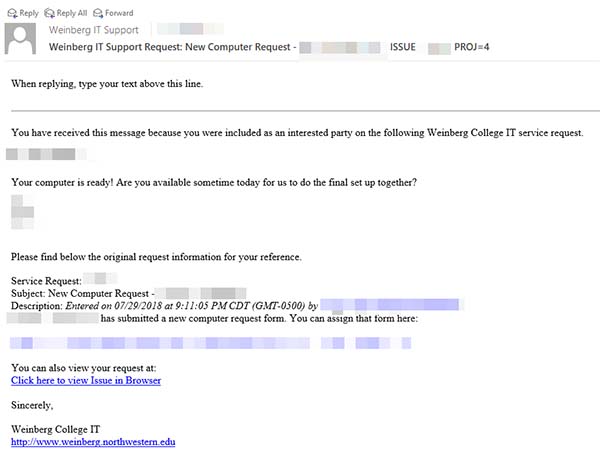 USB C - n. a connector used for transmitting data and power. It is an updated version of USB A (the standard USB connector) and is reversible. USB C can be used to charge a computer, to connect to an external display (a projector) or to connect to an external hard drive. This is now the standard (and only type) of connector on all new MacBook Pros, and some Dells.
synonyms: thunderbolt 3
example sentence: The new MacBook Pros only have USB C ports, I'll need to buy an adapter.

Back to top