Computer Hardware Updates and Changes to iBuyNU
Each year, Northwestern University works with computer hardware vendors to decide on which models will be designated as our primary configurations. These are referred to as the "Tier 1" bundles. These bundles receive the greatest discounts available from each vendor. Weinberg College IT joins Northwestern Procurement and various university IT groups as we analyze and discuss computer hardware purchases. Our feedback in this process focuses on building hardware bundles that respond to the research, teaching, and administrative needs of university staff and faculty.

From the university-wide Tier 1 bundles, Weinberg College IT then highlights models that fit the use and needs of the College community. You can view the Weinberg College recommended models and minimum requirements on our website.
Dell Tier 2 bundles

After reviewing the Tier 1 bundles, Weinberg College IT sometimes may add an additional Tier-2 bundle from Dell. These configurations, referred to as "Tier 2" configurations, fill a gap that we see between the university-wide configurations and what people in Weinberg College need to do their work. This year, we've added the 13" XPS Laptop to our Tier 2 bundle for people looking for a light-weight portable laptop. To view that Tier 2 bundle, select Weinberg College of Arts and Sciences from the category dropdown on the Standard Configurations page.
To access the bundles with negotiated pricing, go to the Dell punchout page in iBuyNU.
Click on the Standard Configurations option on the main page.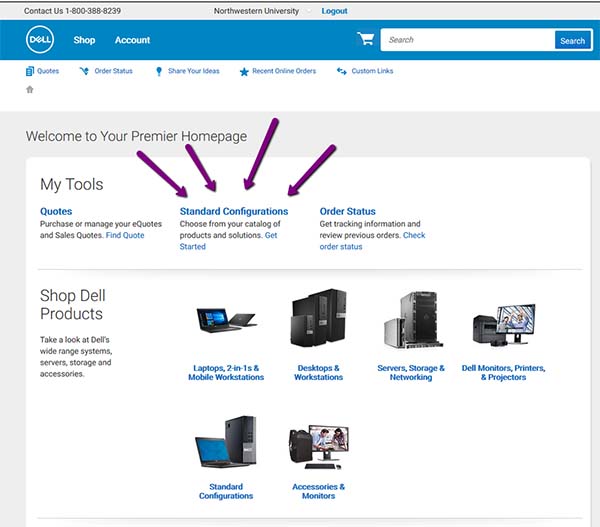 3. Filter the kind of computer or peripheral you want to see by choosing from the All Category dropdown menu.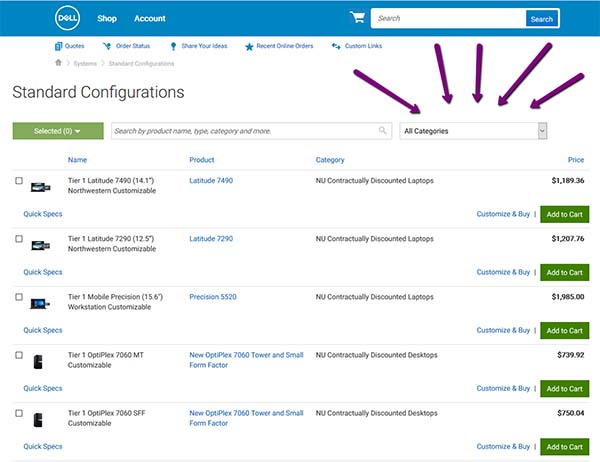 4. To customize a computer, click on Customize & Buy. Customize hard drive, processor, RAM, and other components. You can also add a dock to your order in this customization window. NOTE: All OptiPlex desktops are currently configured WITHOUT a CD/DVD drive. Drives can be added to the 7060 MT and 7060 SFF for $25. It cannot be added to the 7060 MFF.

Purchasing Resources
As always, please contact Weinberg-IT@northwestern.edu with any purchasing questions. Check out our website for our guide to the Computer Replacement Process.
Back to top