Announcements and Events
Phishing Quiz
Weinberg College IT is sending an email with a short quiz about phishing emails. This quiz is meant to help you assess your current knowledge of phishing techniques. If you take the quiz you'll be entered for a drawing for a small prize!
The email will come from Michael Satut with the subject "Can you recognize a phishing email? Quiz yourself!"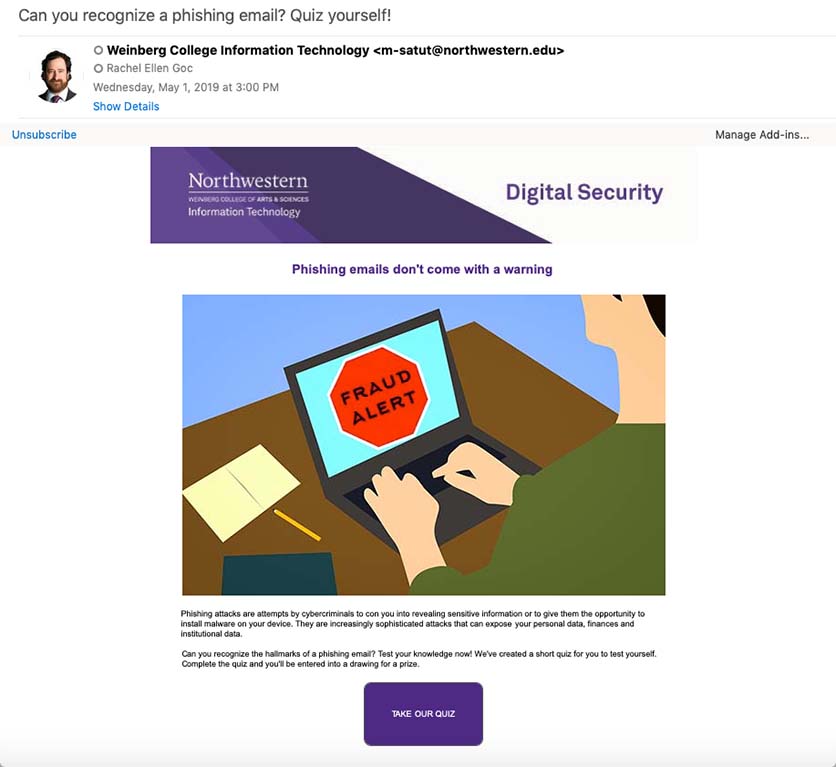 Upcoming Events
iModules Cookies & Learn - Thursday, June 13th 12:00-1:30. 1922 Sheridan Road, 2nd floor conference room
This event is for any iModules administrators and anyone who wants to discuss departmental newsletters, email marketing or connect with other administrators who are working on departmental promotion.
Smartsheet "Show Us Your Sheet!" - mid-July, Mudd Library
A cross between a poster session and speed dating, Weinberg College Smartsheet users will provide interactive presentations of their sheets. This event is open to faculty and staff who are interested in learning about using Smartsheet to improve process. Topics to be covered include:
 Undergraduate course planning
Budget planning
Expense tracking
Approvals and workflow
Back to top