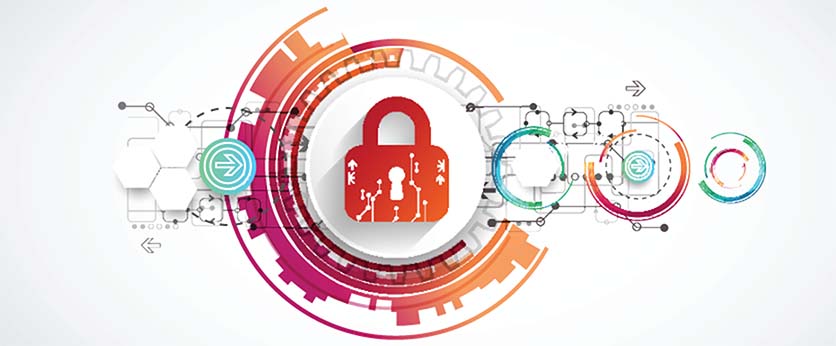 What is Weinberg College IT doing to keep my computer safe?
In IT jargon, the ongoing management of computers and security protections is called "endpoint management." What does that mean for your computer as an "endpoint"? Our support and security measures start when your computer first arrives on campus and continue as you use your devices.
1. New Computer Setup
When you get a new computer, we set up a number of programs that keep your it patched and updated to protect against malware, viruses, and other security threats. Additionally, as of April 2018, we encrypt all new computers that we set up. Encryption protects your data in case of loss or theft of your computer.
2. Ongoing Support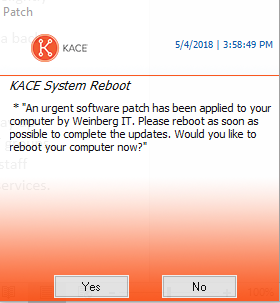 Weinberg College IT is always reacting to software updates and security threats. Updates are pushed through to your computer through the use of endpoint management tools KACE and JAMF. These updates help ensure that your computer does not become vulnerable to malicious attacks. When you notice a notification from KACE like the image to the right, please take the time to reboot your computer by clicking on "Yes" in the KACE notification.
3. Data back-ups
Weinberg College IT installs CrashPlan for disaster recovery data back-ups. Use CrashPlan's self-service console to restore previous versions of lost or corrupt files on your computer.

Northwestern Box is another way to safely protect your files. Easily store, access, and edit your files from any device using Box.

4. Ongoing Research and Networking
Our staff works with Northwestern IT and other units on campus to stay up-to-date on issues facing our communities. We regularly collaborate with other IT groups to research new products, create best practices, and learn new techniques. Our staff attend and present at national IT conferences and always strive to improve our services.
What can I do to improve my security and protect my data?
Secure your Passwords
Never write down your password on a piece of paper that is going to be taped on your computer. How can you remember all those passwords without writing them down? Use a password manager application to keep your passwords safe. We recommend using the products LastPass or Dashlane. They are easy to setup and use.
Identify Email Scams
Email scams are becoming harder to identify, but if you enable your Email headers in Outlook, you can always tell the difference between a legitimate email and a phishing scam. Learn what email headers are, enable them, and become savvy at identifying good from bad emails.
Never send sensitive information over email
Use Box for your file sharing. When you share files using Box, files are encrypted from end-to-end and you can also manage viewing or editing permissions for the viewer.
New Security Resources
Data and hardware security is an ever-evolving area and it can be hard to keep up with all the new developments. We are updating our website with new resources on security so that you can find what you need in one place. If you're interested in additional security news and information, check out the new blog, THE SAFE, written by our security specialist Alex Ruiz. Alex will be writing about a variety of security topics both on and off campus. Check out our Staff Spotlight in this issue to learn more about Alex and his role at Weinberg College IT. Please reach out to us if there are specific security topics you would like to learn more about in the future.
Back to top