Zoom Webinars: How and Why to Use Them
Every meeting, event, conference, quick chat, team lunch, and coffee break seems to be online these days. We have come to rely on Zoom videoconferencing for nearly all of these occasions. Now is the time to ask yourself the following:
What is the Zoom webinar option and how does it differ from regular Zoom calls?
Why choose the Zoom webinar option?
How do I sign up to have the Zoom webinar added to my Northwestern license?
Why Zoom Webinars?
If you have attended large Northwestern events, it is likely you attended a Zoom webinar. You may have first registered for the webinar by entering your name and email address. This is a protection often used so that the moderator can control who receives the meeting link and then can view who is planning to attend--and even remove someone's option to attend.
Choose a Zoom webinar and not a regular Zoom meeting for the following reasons:
To add a layer of safety against Zoombombing when you are inviting non-Northwestern attendees or hosting a public event

Manage and view attendees after sending out the invite (you can do this after invitees register OR you can manually accept or reject registrations yourself)
Cancel or resend registrations

To allow for text questions and answers during your live session while also preventing unnecessary commenting  that may be distracting
To focus the meeting or event on a presenter or panel of presenters since attendees cannot share their video
To host a meeting with over 300 attendees

Your current Northwestern license allows up to 300 attendees; the default webinar license allows up to 500 attendees, but you may request a one-time license for up to 1000 attendees.

To have the option to livestream over YouTube or Facebook

This option dramatically increases the number of viewers you can have.
Plan Your Zoom Webinar
Once your webinar license is applied to your Zoom account, you can only access the webinar settings via the online Northwestern login to Zoom and not via the Zoom client on your personal computer.
Select "Webinars" from the left-hand menu in your preferences.
Your setup option categories include Invitations, Email Settings, Branding, Polls/Surveys, and Q&A. Decide whether you want registrations automatically approved or whether you wish to accept and reject each one. Also consider colors, background and general branding--and be sure to set up your co-hosts and panelists in advance.
We recommend, in the webinar setup, to allow for a practice session of the webinar. This is especially important if you are presenting to a large group and must coordinate webinar tasks across a panel or group of co-hosts.
As with regular Zoom meetings, you must create polls or surveys built into the webinar in advance of the live event. Finally, a key setup option is handling questions and comments during the webinar:

During Your Zoom Webinar
Be sure you managed your attendee list in advance of the meeting!
Remember the actions and security available to each role in your webinar: Hosts, co-hosts, panelists, and attendees. The host and co-host DO have different abilities in the webinar.
Stay aware of the options you can change at any time during your webinar by checking or unchecking them. For example, the following are available via "More" after selecting the "Participants" button in the bottom toolbar and opening the Participants panel: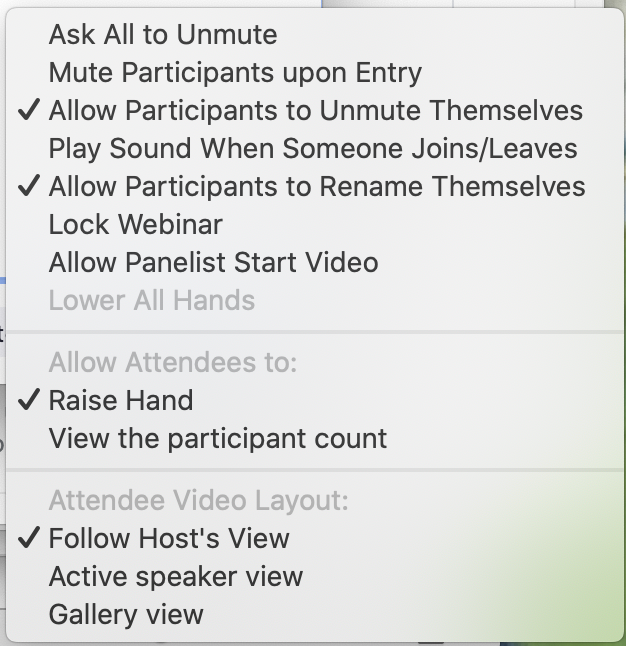 If you have set only answers to questions as viewable by participants, be sure to have a co-host managing and answering those questions.
Consider whether you wish to record the webinar and make sure alerts in other applications are turned off.
Back to top