Show Us Your Sheet! Smartsheet Event
On Thursday, July 11th Weinberg College staff gathered for interactive presentations on Smartsheet. Six Weinberg College staff shared how they use Smartsheet to solve data collection, workflow, and other administrative challenges.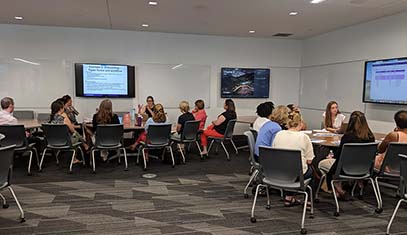 Maria Pina Daniele, Faculty Administration, and Rossitza Guenkova-Fernandez, Religious Studies, presenting.
Attendees of the event were able to hear from several presenters in a small-group, interactive format. Presenters shared their experiences managing course planning, monitoring budgets and forecasts, building and sharing reports, making approvals workflow and creating dashboards.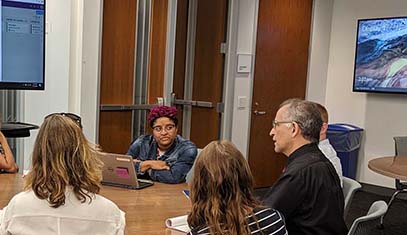 Presenter Jasmine Bomer, History, listening to attendee questions. 
Held at Mudd Library, this event took advantage of the newly renovated space and updated technology. The room is capable of showing ten independent displays at one time. For this event, it allowed our presenters to give concurrent presentations and hold discussions with their attendee groups.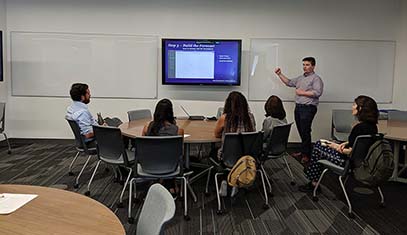 Stephen Monteiro, Political Science, sharing his presentation "From Workflow to Forecast."
Feedback during and after the event has told us that College administrators enjoyed the interactive format of the event and the range of topics presented. The presentations were loosely grouped between topics more suitable for beginners to Smartsheet and those for experienced Smartsheet users.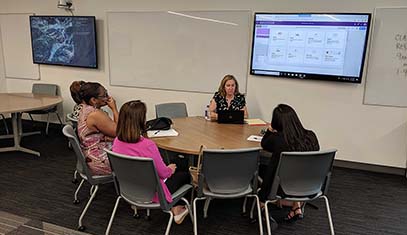 Reid Wellensiek, Research and Graduate Studies, discussing how her team uses Smartsheet to improve graduate student funding processes.
Several presenters have shared demo versions of their sheets. If you would like to view these sheets, please email Michael Satut for access to the Smartsheet demo workspace. Thank you to all who attended and to our excellent presenters!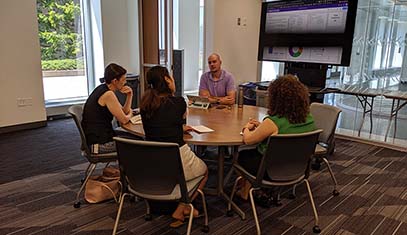 Tyler Maclean, WITS, sharing the dashboard he created to track Weinberg College IT Solutions' platforms and systems.
Back to top