Find Balance with a Computer Inventory
 Administrators in Weinberg College balance competing demands and shifting best practices. Policy changes can have ripple effects on our workflows and require new techniques to keep everything from toppling down. For example, changes to Weinberg College's Computer Replacement Policy over the past year have affected the computer purchasing process. This policy is based on a four-year cycle and ensuring a smooth reimbursement process means that administrators need to have a handle on their computer inventory.
Do you know how many computers your department, program, or lab has? Do you keep an inventory of your computers or other valuable equipment? Maintaining an equipment inventory can provide time-savings when managing your resources and completing the reimbursement process.
Why keep a computer inventory?
Track and re-assign computers to fill the needs of your group
Quick reference when a computer is malfunctioning or ready for replacement
Manage your departmental, program, or lab resources
Sample Templates and Workflow
Check out our sample templates and workflows to help you integrate a computer inventory into your administration practices.
EXCEL TEMPLATE AND WORKFLOW
Fill out info in your inventory spreadsheet.
Upload your document to Box.
Share with other administrators or faculty in your group that need access to the information.
Update your document whenever you purchase a new computer or decommission an old one.
SMARTSHEET TEMPLATE AND WORKFLOW
If you have a Smartsheet license please email rachel.goc@northwestern.edu to request access to the inventory template + webform.
Input your computer inventory into the Smartsheet. To get started, you can use a Webform that asks individuals to enter information about their computer.
Share with other administrators or faculty in your group that need access to the information.
Update your document whenever you purchase a new computer or decommission an old one. Use the Update Request function to request updated information on an item from another member of your team.
Asset Tagging
Since January 2018, Weinberg College IT has been tagging every new computer that we set up. After testing different options, the project team of Dorie Aufmann, Agata Nartowska, and John Wu designed our current process. We use this tag during support requests so that we can quickly find relevant information about the computer we're servicing. Our tags use a QR code that we scan to record and update information about the computer. Additionally, once a computer moves out of our support, we add a tag denoting that the computer is unsupported.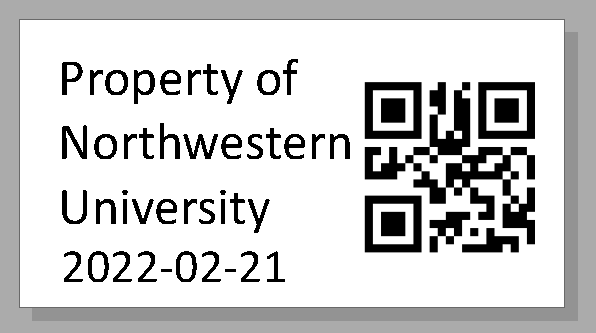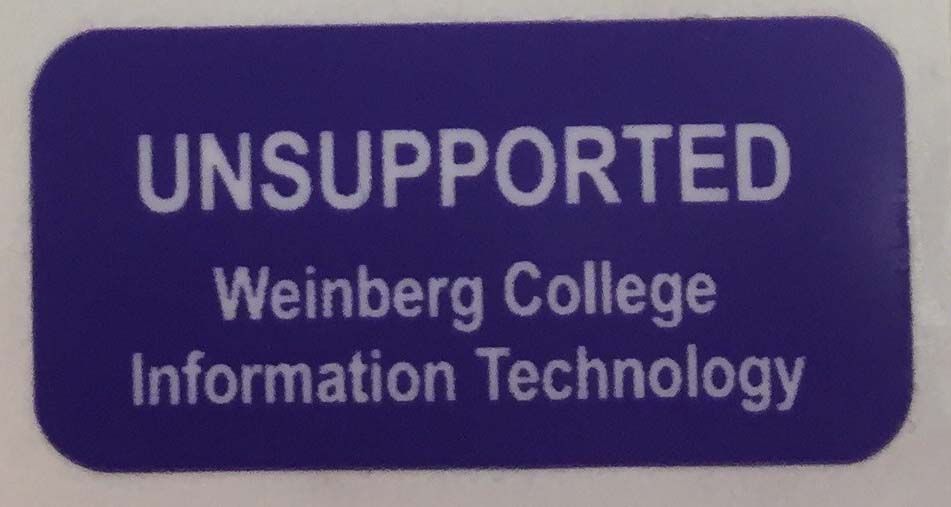 Weinberg College IT asset tags
Tracking Using Service/Serial Number
You can always check the support status of a computer by looking up its service tag/serial number. Each vendor places the number in a slightly different spot, so we've created guides for Dell, Lenovo, and Apple.
Dell- Guide for Dell
Lenovo- Guide for Lenovo
Apple- Guide to Apple
You can use the service/serial number of a computer to provide a unique identifier for each computer in your inventory.
Tracking Using Tags
If you would like to tag your computers or other equipment, you can order tags from the Northwestern Office of the Controller. The tags from this office say "Non-Capital Equipment Northwestern University," have a barcode, and a unique number in a series (e.g., NC-13495, NC1-3496, etc). The cost per tag is $0.20. To request non-capital equipment stickers email equipment@northwestern.edu.
Tracking your computer inventory will help with managing your computers over their four-year life cycle and tracking your computer expenses. Do you currently track your computers or manage an equipment inventory? Let us know if you have some techniques we can share with other administrators.
Back to top